Skip to Content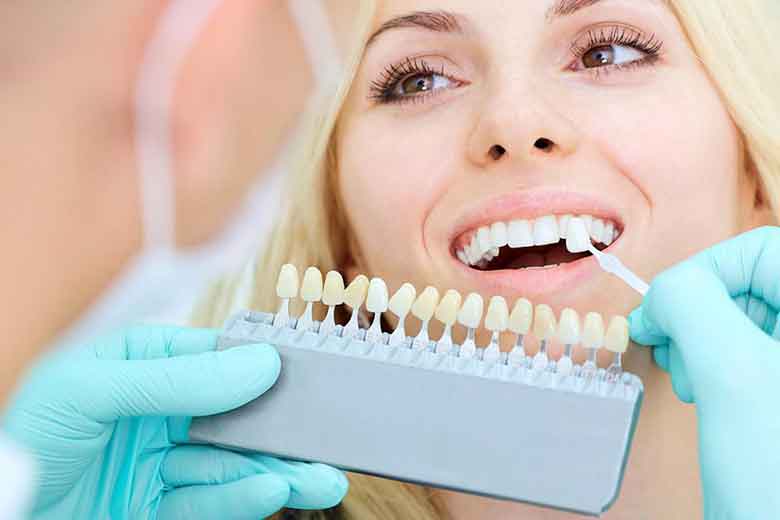 Are you wanting a healthier, more youthful-looking smile but do not think you can achieve it with your natural teeth? Think again. For many people, the dental veneers Parker Colorado offers will provide a smile makeover that lasts. So what are dental veneers and are they right for you?
What Are Dental Veneers?
What are dental veneers? Veneers are thin shells made of composite resin or porcelain that custom fit your individual teeth. These wafer-like coverings provide a natural-looking makeover for your teeth. They cover and permanently conceal many problems, such as chips, stains, unevenness, worn teeth, or misaligned teeth.
Veneers last for 10 to 15 years if you take care of them. So this means you gain a permanently whiter, brighter smile that does not stain or discolor like natural teeth. You no longer have to worry about teeth whitening with veneers. Nor do you feel embarrassed or self-conscious about your smile.
Veneers also provide an option to crowns and braces, for many people. If you need only mild teeth straightening, veneers can give the look of straighter teeth without braces. Whereas crowns cover an entire tooth, veneers only cover the forward-facing part of the tooth that is visible to the outside world. So for cosmetic issues, veneers often provide a better fit.
Are Veneers Right for Me?
Many patients each day ask their dentist, "Are veneers right for me?" This is the most common question after they excitedly learn answers to the first question of, "What are dental veneers?" It seems that once people learn about veneers, the majority want them for smile improvement. Of course, there are things to consider before you can get your own veneers.
Certainly, veneers are not right for everyone. This is why you need to visit a dentist providing dental veneers and talk to them about your smile improvement goals.
People with heavily decayed teeth or large fillings do not qualify for veneers. The same is true if you clench or grind your teeth, as you can crack or chip your veneers by doing so.
To place your new tooth surfaces, the dentist must remove a layer of each tooth's protective enamel. This enables the perfect fit for your mouth, without adding bulk to your teeth. But it can sometimes cause sensitivity. For most people, this sensitivity goes away after several days, although some others experience it for the long term.
Veneers are also permanent. This means there is no returning to your natural tooth surfaces after you wear veneers.
Cost is another factor to consider. As far as cosmetic dentistry goes, these smile improvements prove expensive. But since you only need your visible front teeth covered, you can budget for your new smile.
Talk to Your Parker Colorado Dentist about Smile Improvement
Cosmetic dental options are popular today. But you still need general dental services in Parker CO and other types of care, such as restorative dentistry and preventive dentistry. To find a quality dentist, look for one providing all of these services, including:
To fit all of these dental care needs, call Signature Smiles Dentistry in Parker, CO today at 720-722-3792. Schedule your first visit and ask your new dentist, "What are dental veneers?"