Skip to Content
Dental Implants in Parker, CO
Visit Signature Smiles Dentistry for Dental Implants
If you're missing more than one tooth, a dental implants procedure can restore your smile, improve your oral health, and help you regain confidence. Dental implants are essentially prosthetic tooth roots that are placed in the jawbone to support prosthetic teeth. Unlike dentures or a removable dental bridge, they are permanent and can last a lifetime with proper care. At Signature Smiles Dentistry, we offer restorative dentistry services, including dental implants in Parker, CO. We can replace multiple missing teeth, or use full mouth dental implants to replace teeth that are severely damaged or decayed. Call us today or make an appointment online to determine if you're a good candidate for dental implants.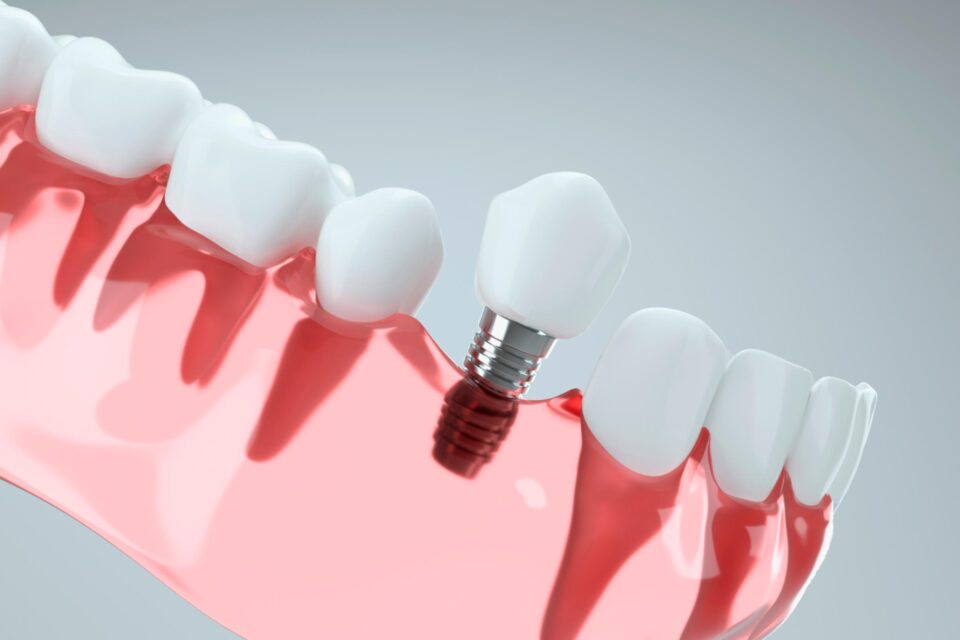 What Are Dental Implants?
A dental implant is a small screw, usually made of titanium, that is surgically implanted in the jawbone to function as the root for an artificial tooth. An abutment is screwed into the top of the dental implant, and a prosthetic or artificial tooth is then attached to the abutment. Some people use the term 'dental implant' to refer to all three parts: the post, abutment, and tooth.
What to Expect From the Dental Implants Procedure
The dental implants procedure is a multi-step process that takes months to fully execute. First, your dentist will evaluate the condition of your teeth, jawbone, and gums to determine if you are a good candidate for dental implants. You must be in good overall health, good oral health, and have sufficient jawbone to support the dental implants. Your dentist may take x-rays or digital scans of your jaw, teeth, and gums. Then they will discuss the dental implants procedure with you in detail, so you know what to expect and can ask any questions you have. They may suggest that you not take certain medications on the day of your procedure and go over pre- and post-procedure care. On the day of the procedure, you will be put under general anesthesia or IV sedation. Your dentist will cut into your gum to reach your jawbone and insert the dental implant posts. The abutments and prosthetic teeth may be placed at that time, or your dentist may suggest you wait until you've healed to proceed to that step.
It takes 2-6 months for your jawbone to heal around the dental implant posts. If your dentist didn't place your abutments and prosthetic teeth, you will go back into the office once your bone has healed. Your prosthetic teeth are designed to look like your surrounding natural teeth so no one will know you have dental implants. These teeth might be created from porcelain, ceramic, or plastic. It will take several weeks for your gums to heal after your dental implant procedure is complete. You will need to care for your new teeth by brushing and flossing daily and visiting your dentist every year for a checkup. How long do dental implants last? With proper care and maintenance, dental implants can last between 10-30 years. This is longer than any other tooth replacement option.
Types of Dental Implants
Your dentist might recommend two or three separate dental implants, or full mouth dental implants. Full mouth dental implants, also called All-on-4 implants, use four dental implants to support a full arch of upper or lower teeth. There are two primary types of dental implants:
Endosteal implants – This type of dental implant procedure is the most common. Your dentist will drill a hole in your jawbone for each dental implant, and then will place the implant deep in your bone. These implants are used to anchor one or more prosthetic teeth.
Subperiosteal implants – This type of dental implant procedure can be performed if you don't have sufficient jawbone to support an endosteal implant. The dental implant is inserted under the gum but isn't drilled into the jawbone.
Am I a Candidate for Dental Implants?
You are a good candidate for dental implants if you are in good overall health, don't smoke, have good oral hygiene, have healthy gums, and have sufficient jawbone to support the implants. You also need to be able to commit to ongoing dental care and regular dental visits. You don't need to be a perfect candidate to undergo a dental implant procedure, and you should visit a dentist for an evaluation to discuss your options for tooth replacement.
Understanding the Cost of Dental Implants
The cost of dental implants varies depending on the number of teeth you're replacing, and the complexity of the procedure. Full mouth dental implants will cost more than having one or two dental implants placed. In general, dental insurance doesn't cover the cost of dental implants, but you can use a dental discount plan or ask your dentist about dental financing. Your dentist will tell you the full cost or an estimate for the cost of dental implants before you schedule the procedure.
Call Today to Learn More About Dental Implants in Parker, CO
If you're interested in learning more about the dental implant procedure in Parker, CO, call us at Signature Smiles Dentistry. We can do an evaluation to determine if you're a good candidate for dental implants or full mouth dental implants. Contact us today or book an appointment online to get started.
Achieve Your Signature Smile Today