Skip to Content
The Dental Bridges Parker, Colorado Needs
Dental bridges and crowns provide permanent solutions for repairing a damaged smile and bite. Whether you lost teeth or had one or more teeth extracted, a bridge gives you more options for tooth replacement. The dental bridges Parker, Colorado residents trust are through the services of Signature Smiles Dentistry.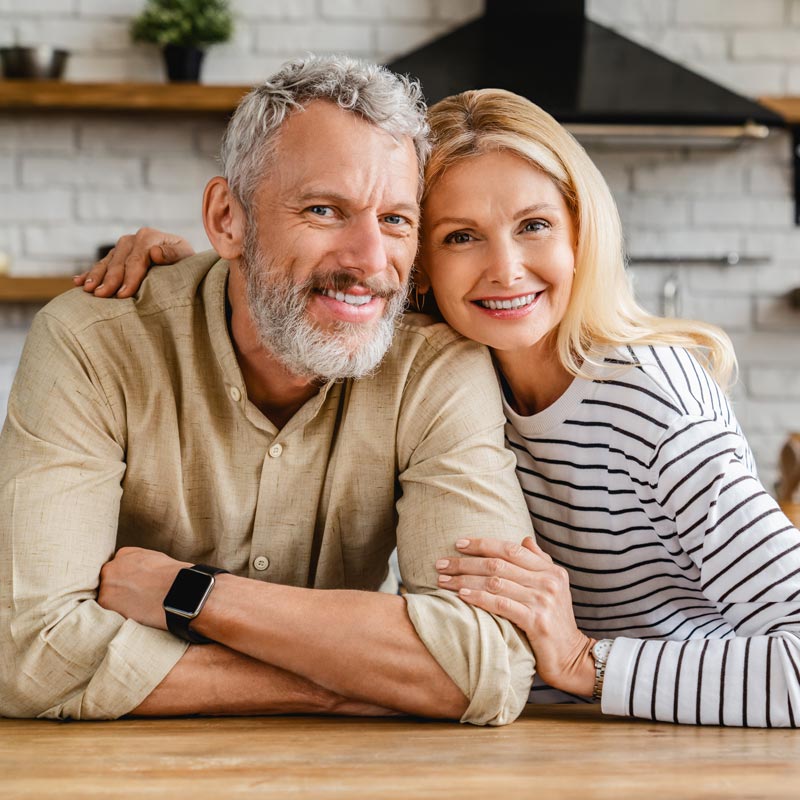 Benefits of Dental Bridges
Dental bridges fill gaps left by missing teeth. Without teeth in place, your smile and bite become misaligned. This comes from the shifting of your teeth since nothing is keeping them in their proper place. Once this happens, you can begin to experience problems with your bite along with other dental problems.
A bridge also helps you maintain the shape of your face, keeping muscles taut and active instead of letting them sag into the gap in your mouth.
There are four types of dental bridges Parker, Colorado offers. Your dentist helps you understand their individual benefits and drawbacks, as well as how one or more possibly fit your needs. Below we explore the four types of bridges, so you can talk to your dentist about them and weigh your options.
Four Types of Dental Bridges Parker, Colorado Provides
The four types of dental bridges Parker, Colorado residents need includes traditional, cantilever, Maryland, and implant-supported. Each of these features their own pros and cons.
Cantilever Dental Bridges
Cantilever dental bridges Parker, Colorado offers provide another option for tooth replacement. These work very much like traditional bridges but only support the replacement tooth on one side, by one crowned tooth.
As for a traditional bridge, this type involves removal of your supporting tooth's enamel for placement of a permanent crown. Wearing a bridge supported on only one side also puts all of the fake tooth's pressure and use on your single natural tooth. This sometimes causes broken teeth and loose crowns.
Traditional Dental Bridges
Traditional bridges fit many peoples' needs, as these include one or more fake teeth held in place by dental crowns. The dentist crowns one tooth on each side of the bridge, as its support. These work well when you have healthy natural teeth on each side of your missing tooth gap.
The downsides of traditional dental bridges Parker, Colorado are the strain these bridges put on supporting teeth. There is also the permanent enamel loss these teeth suffer from a fitting of the crowns. Enamel does not grow back, so you cannot remove the bridge later and also remove the crowns.
Maryland Dental Bridges
Maryland bridges provide an option to traditional bridges. Your fake tooth, a pontic, is supported by a metal or porcelain system of frames. Your dentist bonds the framework onto two teeth located next to the missing tooth's gap. This means you do not lose tooth enamel on supporting teeth and do not wear crowns on those, either.
Maryland bridges sometimes work better than traditional ones. But the negatives include loosening of the bridge when used for molars. The bridge often fails with biting force. Its frame also sometimes causes problems with your gums, food or bite.
Implant-Supported Dental Bridges
To replace missing teeth using implant-supported bridges, the dentist first places an implant in your jaw bone. This post fits one or more implant crowns, the pontics. You can also gain multiple implants to support a row of teeth, if you cannot undergo implantation for every single tooth.
Supporting these fake teeth on implants gives your new teeth a very natural, secure and comfortable feeling. These permanent solutions last for decades when well cared for as part of routine checkups and daily oral hygiene. But the process of placing one or more implants involves a surgical procedure first, followed by five months of recovery. After the five months, you gain your new, permanent teeth.
Dental Bridges and Other Dental Services in Parker, CO
When you need ongoing dental care, bridges or other dental services, you can trust Signature Smiles Dentistry in Parker, CO. Signature Smiles Dentistry provides a range of services, including:
Oral surgery
Fillings
Crowns
Implants
Call Signature Smiles Dentistry at 720-722-3792 to schedule a visit and learn new patient information. Ask about new patient dental specials when scheduling, too. During your visit with the dentist, you can discuss dental bridges and other tooth replacement options.
Achieve Your Signature Smile Today