Skip to Content
Oral Cancer Screenings in Parker, CO
The Area's Go-To Oral Cancer Screening Dentist
Signature Smiles Dentistry provides oral cancer screenings for patients throughout Parker, CO and the surrounding areas. As the area's go-to oral cancer screening dentist, you can rest assured you're in good hands when you visit our state-of-the-art facility. We will identify any signs of oral cancer during your oral cancer screening. If present, we will likely perform a biopsy to confirm and then create a treatment plan. Catching oral cancer earlier is essential to ensuring a full recovery.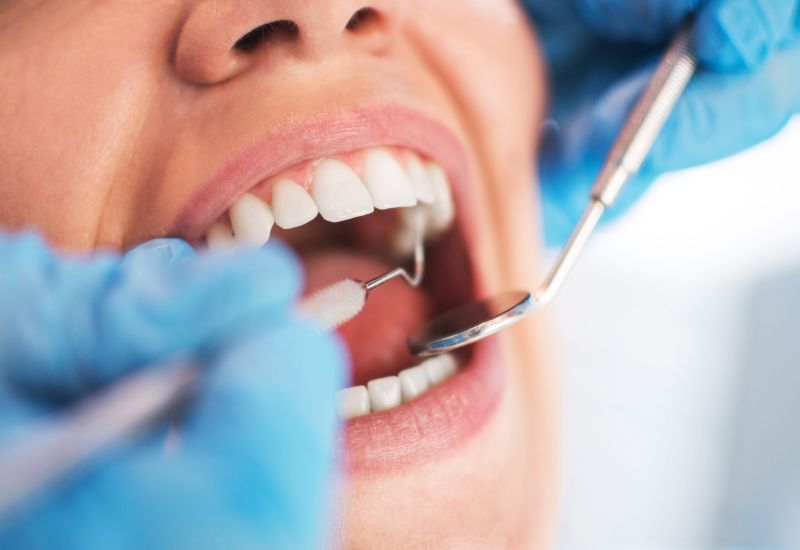 What are Oral Cancer Screenings?
An oral cancer screening is a medical examination that looks for signs of cancer or precancerous conditions in the mouth. This examination is performed to identify mouth cancer early while treatment is still possible. Often, an oral screening is performed during a routine dental visit. Cancers in the oral cavity include mouth, jaw, and tongue cancer. During an oral cancer screening, several areas are examined. These include the following:
Cheek lining
Floor of mouth
Roof of mouth
Gums
Lips
Tongue
Tonsils
The Signs & Symptoms of Oral Cancer
When it comes to oral cancer, early detection is critical. Oral cancer symptoms can include everything from loose teeth to dramatic weight loss. The signs and symptoms of oral cancer may include:
Unexplained bleeding in the mouth
A lip or mouth sore that won't heal
Ear pain
Jaw pain or swelling
A persistent sore throat
Difficulty or pain while swallowing
Difficulty or pain while chewing
Mouth pain
White or red patches inside the mouth
A growth or lump inside the mouth
Numb spots inside the mouth
What Do Oral Cancer Screenings Involve?
Oral cancer screenings consist of two non-invasive components: a visual exam and a physical one. During the visual exam, your lips, mouth, tongue, throat, jaw, neck, cheeks, and head will be checked for any abnormalities. During the physical exam, your dentist will check for any lumps or bumps, especially in the lymph nodes around the jaw. If any indication of oral cancer is detected, we may recommend a biopsy for further investigation. Catching these signs early offers patients a high chance of full recovery.
The Benefits of Oral Cancer Screenings
Oral cancer screenings provide a wide range of benefits to patients that undergo them. The primary benefit of oral cancer screenings is that they can help detect mouth cancer or precancerous lesions at an early stage. This is when the cancer or precancerous lesions are easiest to remove and cure. Because malignant growths in the mouth are difficult to detect, they will usually go unnoticed until they cause pain or discomfort, and by that time, they are usually more difficult to remove and treat. This is why the primary benefit of an oral cancer screening is the early detection of oral cancer.
How Frequently Should You Have an Oral Cancer Screening?
When you visit Signature Smiles Dentistry for your routine dental exam, we will perform an oral cancer screening on you. From there, we will assess your risk factors, such as your health history, and determine how often you should undergo this screening. If you are at high risk, we suggest annually.
What If Oral Cancer is Found During My Screening?
If your dentist detects any signs or symptoms of mouth cancer or the presence of precancerous lesions during your oral screening, you may be recommended a follow-up visit or a biopsy procedure. A follow-up visit scheduled for a few weeks will be to re-screen and determine if the abnormalities are still present and if they've changed in that time. A biopsy procedure will allow your dentist to extract a sample of cells for testing to determine if cancer is present.
Why Choose Signature Smiles Dentistry?
At Signature Smiles Dentistry, we are more than just a dental practice. We're a family. Our team strives to facilitate a safe and welcoming environment for our valued patients. We want our patients to be able to relax the moment they enter our office. Patients can expect comfort, care, and expertise at our dental office. We have numerous years of experience serving the Parker, CO area, so you can rest assured we know what we're doing. Our team is not only knowledgeable but passionate as well. Choose us because:
Our team is knowledgeable and passionate
We offer a warm, friendly environment
We provide the best possible dental care
Contact Us Today for an Oral Cancer Screening
If you're exhibiting any mouth cancer symptoms, reach out to the professional team at Signature Smiles Dentistry. We offer a wide range of dental services to patients throughout Parker, CO, including oral cancer screenings. To learn more or to schedule an appointment with our team, contact us today.
Achieve Your Signature Smile Today