Skip to Content
How Much Do Dental Cleanings Cost?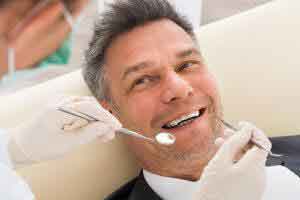 Are you wondering how much do dental cleanings cost before your upcoming appointment? Or do you fear this cost so much that it is keeping you from scheduling an appointment with the dentist? Whatever your fears, not visiting the dentist twice yearly causes greater expense than going in for routine cleanings. Learn more about these important visits, below.
How Much Do Dental Cleanings Cost?
The actual dental cleaning cost may surprise you. Many routine dental procedures carry hefty price tags. But not getting this cleaning actually costs more than going through with it.
Fewer than 70 percent of Americans go to the dentist once yearly. This means very few visits as they should, twice each year for routine checkups and cleanings.
So how much do dental cleanings cost? A professional dental cleaning ranges in cost, depending on where you live in the United States and which dentist you visit. But most keep the dental cleaning cost between $75 and $200.
Of course, the best way to manage these costs is to enroll in a dental insurance plan and use your benefits for your visit. Many insurance policies cover twice-annual cleanings at 75 to 100%. This means your final dental cleaning out-of-pocket expense can range from under $20 to $50, using your insurance benefits. That is if you have to pay anything at all.
If you fear dental costs in general, an insurance policy for a single adult ranges from $25 to $55 per month, in most cases. This helps keep all of your cleaning, exam, X-ray, restoration, and other treatment expenses at a minimum. Insurance is a predictable expense you can work into your budget to keep all of your dentistry within safe cost expectations.
You can also explore other options to bring costs down. These can include a dental discount plan. To learn more about which plans your dentist accepts, review new patient information or call the office to discuss dental cleaning costs.
How Much Do Dental Cleanings Cost Versus Costs of Not Going to the Dentist
The costs of not visiting the dentist twice each year weigh heavier on your wallet, than any dental cleaning cost. Not visiting the dentist puts you at risk for major dental problems, oral disease, and bigger health concerns than just problems with your teeth.
No one wants to have to pay for professional cleaning when your teeth don't hurt and look okay in the mirror. But not attending twice-annual visits mean plaque bacteria have more time to build up into hard tartar and cause tooth decay. They also infect your gums, causing gum disease. Over time, gum disease quickly develops into a major expense that can even make you lose your teeth.
So your concern over how much do dental cleanings cost is actually the least of your real worries. You need to face the reality that not going to the dentist causes more problems for you in the long run and costs far more, at the same time.
Dental Cleanings and Other Important Services in Parker, CO
As you consider how much do dental cleanings cost, you can also consider any other services you might need. Signature Smiles Dentistry provides a wide range of dental services in Parker, Colorado. These dental services include:
Dental cleanings
Oral surgery
Fillings
Crowns
Implants
Lumineers
For a clear idea of how much do dental cleanings cost in Parker, CO, contact your new dentist at Signature Smiles Dentistry. Our office is also proud to provide new patient dental specials to help with the cost of cleanings. The dental financing Parker Colorado residents need is available at our office. Schedule your visit by calling 720-513-8405 now.