Skip to Content
Best Parker Colorado Family Dentist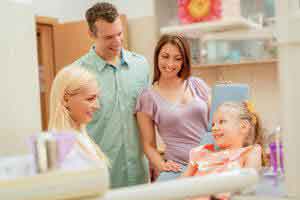 Finding a quality Parker Colorado family dentist is never easy. You want one who understands your needs and treats you as an individual, too. However, visiting the dentist is an important part of maintaining healthy teeth and gums. Once you find the right dentist, you easily manage your twice-yearly routine of dental visits.
What is a Parker Colorado Family Dentist?
A Parker Colorado family dentist provides care for multiple members of your family at the same location. This dentist understands inpidual needs, family patterns in eating and oral hygiene, and your family's treatment and budgetary needs. You also can schedule multiple members' dental visits at the same time or on the same day, for greater convenience.
Instead of building a practice around certain specialties, a family dentist focuses on general dentistry for people in multiple age brackets. So your Parker Colorado family dentist offers a wider range of services than some other dentists. But at a family dentist, you still gain access to important dental services in Parker CO, such as:
General dentistry
Oral surgery
Fillings
Crowns
Dental implants
Finding Your New Family Dentist
Finding the best Parker Colorado family dentist begins in several ways. You can accept referrals from friends, work associates, or healthcare providers. You can also search online to review the best Parker Colorado family dentist websites. Your dental insurance company likely offers a list of area dentists, according to which ones accept your coverage.
When you narrow your field of options, schedule a visit with the one you believe will be the best Parker Colorado family dentist for your loved ones. This first visit shows you a lot about your chosen dental practice, allowing you to make a decision before beginning any long-term treatment.
When you visit a dental office for the first time, consider whether you feel comfortable in the waiting room, talking to the friendly staff, and being able to schedule appointments when you need them. Do you sit in the waiting room for a long time? Or do you gain quick access to the dentist's chair, to start your exam and treatment?
Ensure the dentist is friendly and answers your questions. Your treatment plan should be a dialogue, something for you to plan with the dentist to meet your own goals. When you find the best Parker Colorado family dentist, you simply know it is the right fit.
Parker, Colorado Dentistry for Your Family
Make your search easier by contacting your Parker Colorado family dentistry choice today. It is at Signature Smiles Dentistry that you find the best Parker Colorado family dentist. Schedule your first visit with Dr. Gunning and his caring team by calling Signature Smiles Dentistry now at 720-722-3792.