Skip to Content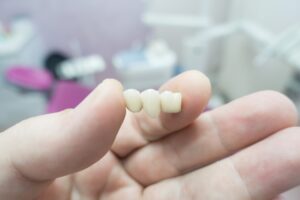 Have you been hiding your smile? Do you have difficulty eating? Have you found comfort behind the curtain of a mask? If missing teeth are causing you difficulties, talk with your dentist. There are many choices that may help you find your beautiful smile once more.
Dental Bridges are one option for rebuilding that healthy, happy smile and can be incorporated as replacements when one or more teeth are missing. This long-lasting natural tooth replacement solution may not require surgery and will provide many benefits, including a look and feel that make your beautiful smile shine once more. A bridge replaces missing teeth with artificial teeth and "bridges" the gap where the teeth were once missing.
Why do I need a dental bridge?
Missing teeth make it difficult to speak, chew and smile. When a tooth is lost, surrounding teeth may suffer because of shifting and misalignment. Missing teeth can cause your lip line to appear straighter and you may develop jowls on either side of your lower jaw. Additionally, difficulty with cleaning may increase the risk of tooth decay and gum disease. Missing teeth also leave space for teeth above or below them to shift and become uneven. Added stress on your teeth and jaw joints can affect your ability to bite and chew. It can also cause stress on teeth and jaw joints and may allow other teeth to shift into that space which can damage them from added stress, affect your bite, and cause pain.
Dental Bridge Options
Dental bridges can be made from metal, porcelain, ceramic, or a combination of all three. Giving options allows you to choose the what is best for you. In addition to a variety of materials, there are four styles of bridges to consider.
Traditional, Fixed Bridge incorporates a collection of crowns, or retainer teeth, and one or more artificial teeth the replace the missing ones. Traditional bridge uses two or more crowns to secure the artificial tooth and can work well when you have healthy natural teeth on each side of your missing tooth gap.
Cantilever Dental Bridge uses only one natural tooth, rather than two used in the traditional fixed bridge. Using only one tooth to secure the replacement leaves the bridge slightly weaker than a fixed bridge. The Cantilever Dental Bridge is best used to close gaps toward the front of your mouth.
With both traditional and cantilever bridges, there is more strain on supporting, natural teeth. Permanent enamel loss also is a consequence of fitting the crowns, meaning that the bridge cannot be removed.
Maryland Dental Bridge uses metal, porcelain, and/ or ceramic wings to bind the replacement tooth to the backs of the adjoining, natural teeth. This option is typically the suggested option for patients with poor health which may impeded by more invasive processes.
Maryland bridges typically work better when not used on molars as the force of biting can loosen the bridge.
Implant Support Bridge surgically implants a small, titanium fixture into the jawbone. The implant, once healed, will be able to support the bridge in place without the need to attach to surrounding teeth. Often, this is the preferred solution when multiple teeth in the same row are missing.
Implant support bridges are surgically implanted and require five months of recovery. However, they will last a lifetime and feel comfortable.
The Process
Multiple visits to your dentist's office are required when deciding about a dental bridge. You'll need an initial consultation to determine which option is best for you. Once a decision has been made, scheduling out the steps of the process can begin. Visits will include:
Prepare the teeth on either side of the gap, or space, and permanently change the shape and appearance of them.
Impressions and/ or images will be taken to serve as the model for your custom-made bridge.
Temporary bridge will be placed to protect and prepare your teeth. The permanent bridge will be fitted, any adjustments will be made, and then the bridge will be cemented into your mouth.
What are the benefits of a dental bridge?
Improve the way you look and feel by bringing your natural smile back with a dental bridge! Bridges are known to have many benefits, including:
Restore your smile and improve your quality of life.
Missing teeth change your smile. Replacing the missing teeth with a dental bridge will improve your appearance and increase your confidence. In return, your quality of life will improve.
Proper chewing and the new ability to chew certain foods.
By choosing a dental bridge, you will close the gaps in your mouth and increase your ability to chew all kinds of foods.
Speak more clearly with proper pronunciation.
Gaps and open spaces between your teeth make it difficult to understand all your words. All your teeth are important for proper communication and enunciation.
Maintain your face's natural shape by preventing jawbone deterioration.
A deteriorating jawbone will result in many health challenges but will also change the entire shape of your face. Opting for a dental bridge will promote further stimulation of the jawbone to keep it healthy and strong.
Protect natural teeth so that they do not move or become loose.
A dental bridge will play a key role in keeping your teeth in place and protecting your gumline.
Signature Smiles Dentistry of Parker, CO
Dr. Gunning and his staff are dedicated to individualized care for their patients in the community of Parker, Colorado. By considering the future of each patient, they can provide the best long-term care plan for you and your smile healthy. Among the many restorative dental treatments that are offered at Signature Smiles Dentistry, a dental bridge is great option to replace lost or decaying teeth. Scheduling a dental bridge evaluation can be done online or by calling (720) 722-3792. Our patients always talk about how comfortable they felt during their experience at Signature Smiles Dentistry because our staff are so attentive, friendly, and kind.