Skip to Content
How Much Are Dental Implants?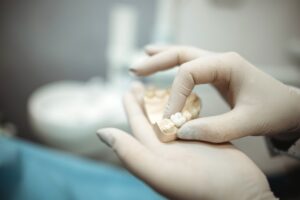 Your teeth are such an important part of your life. Caring for them is a lifetime investment. Missing, damaged, or decaying teeth can create problems that cause pain, discomfort, and possibly even insecurities with sharing your smile. The great news is that dental implants are a natural-looking lifetime investment! Just as with any long-term investment, there is a price to pay. Let's explore how much dental implants cost as well as why they are a great solution to your tooth pain.
What services are you paying for?
Dental implant procedures are unique to each of the individuals who are receiving them. For this reason, a wide range of services and costs are considered. Remember, there is a reason that you need a dental implant, and the health and proper care must be considered for the implants to be a success. There are multiple steps in the process and each step has a fee. Your dentist will do a complete evaluation to ensure that each necessary step is taken to make your dental implants a success. Those steps, if necessary, may include the following:
3D imaging for a comprehensive dental exam
Extraction of problematic teeth
Installation of dental implant(s)
Placement of abutment hardware
Creation of the crown
Placement of the crown
Each dentist will have his or her own rates and some offer incentives, such as free 3D imaging with the scheduling of an implant procedure. If not offered for free, a computed tomography (CT) scan step in the process may cost between $350 and $515. The scan will help to inform the dentist of other complications that need to be addressed to individualize your plan. For example, images may show that a sinus lift or bone graft, and what kind of bone graft, would need to be executed so that the implant can be successfully placed, since the titanium post needs to be fused into the jawbone so that the dental implant will remain steady and strong in your mouth.
With such comprehensive care, it is important to remember that you are making a lifelong investment in your overall health. Total estimates for the dental services of a dental implant typically run between $3,000 and $4,500 per tooth. If you need an entire mouth of implants, the final price can be between $60,000 and $90,000. Location of your dentist (metro areas tend to be more expensive) as well as the individualization of your procedure play significant roles in the total cost of dental implants.
More Than "Just" an Implant
The dental implant itself is the metal or ceramic screw that goes into the jawbone. The abutment is the part that attaches the crown to the implant and acts as the new tooth. These both have separate prices.
Many times, patients require the sinus lift or bone graft to make healthy conditions for the dental implant to be successfully placed. These procedures also have their own prices. However, in the case of multiple implants, remember that 3D imaging, a sinus lift or bone graft may create reveal necessary solutions for the entire area and would only require one charge. The additional fees would come from the additional implants, them.
Additional Implant Options
The American Dental Association (ADA) completed a survey which indicates that the total cost of an implant, abutment, crown, and other necessary procedures ranges from $3,100 to $5, 800. Replacing multiple teeth obviously impacts that price, sometimes by decreasing the total. One example may be when 3 or more teeth are in a row. Being beside each other, the possibility for using a bridge can support 3 or 4 adjacent teeth, bringing the total cost down between $6,000 and $10,000.
The most comfortable option is to replace teeth individually. Replacing individual teeth also allows for the healthy teeth to be preserved. Replacing a full mouth of teeth but leaving healthy, existing teeth can run a total of between $60,000 and $90,000.
An arch, implant-supported dentures, can be used as a less expensive option. Once remaining teeth are removed, two full arches of false teeth replace natural upper and lower teeth. The arch is anchored to 4-6 dental implants on the upper and lower jaws. This method is known as the All-on-4 and typically ranges from $24,000 up to $50,000 for a complete set.
Dental Implants and Insurance
Dental insurers traditionally view dental implants to be an "elective" procedure and have not covered the associated costs. More recently, coverage has started improving and the amount insurance is paying grows each year. While the total cost is not covered, a percentage of the procedure (typically $1,500) will be reimbursed per year. If this is the case for you, it may be worth your lifelong investment to span over 2 different years sot that the reimbursement may be received for each procedure. Some insurance companies do place a lifetime cap. It is worth having the conversation with your dental insurance company for specific details offered in your plan. FSA's, HRA's and HAS's may also cover spending on dental implants. Check with your providers before you begin procedures to know how best to move forward with your dentist.
Signature Smiles Dentistry of Parker, CO
Dr. Gunning is dedicated to individualized care for his patients in the community of Parker, Colorado. He considers the future for each patient to provide the best long-term care plan to keep both you and your smile healthy. Among the many restorative dental treatments that are offered at Signature Smiles Dentistry, dental implants are great options to replace lost or decaying teeth. Scheduling a dental implant evaluation can be done online or by calling (720) 722-3792. Our patients always talk about how comfortable they felt during their experience at Signature Smiles Dentistry because our staff are so attentive, friendly, and kind.
When you have questions concerning your health and are looking for solutions, Signature Smiles Dentistry is happy to serve you and help you find the best path to peace and comfort during your visit!