Skip to Content
Can I Use an HSA for Dental?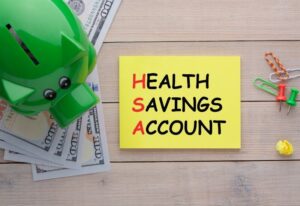 Do you have a HSA account, but you are not sure if you can use it to cover your dental expenses? If so, you are not alone. Many people are not familiar with the rules surrounding HSA accounts, but it is essential to understand how they work to take advantage of their financial benefits. In this blog post, we will explain how a HSA works and answer the question, "Can I use a HSA for Dental?"
What is a HSA?
A HSA account is a tax-advantaged savings account that can help individuals with high-deductible health plans (HDHPs) save money for healthcare expenses. HSAs allow you to contribute pre-tax dollars from your paycheck, which means that contributions are not subject to federal income tax. As an added benefit, earnings on your HSA are tax-free, and withdrawals used for qualified health care expenses are also tax-free.
How Does an HSA Work?
When you sign up for an HDHP, you are eligible to open a HSA account. Once you have a HSA, you can begin contributing pre-tax dollars into your account, up to the annual contribution limit. For 2021, individuals can contribute up to $3,600, and families can contribute up to $7,200 annually. These contributions can be made by either you or your employer, and you can use your HSA funds to pay for eligible healthcare expenses, including dental care.
How to Withdraw from a HSA
Before we discuss the dental expenses covered by HSAs, it's essential to know how to withdraw funds from your account. Typically, you can withdraw from your HSA using a debit card or writing a check. Also, most providers allow you to track your account online, so you can make easy withdrawals. However, always keep the receipts of your dental procedures for tax purposes.
How Can You Use a HSA for Dental?
The good news is that many but not all, dental expenses are covered by HSAs. You may use your HSA to pay for a range of dental treatments, including dentures, sealants, braces, fluoride treatments, x-rays, teeth cleanings, extractions, and fillings. However, keep in mind that procedures like teeth whitening or non-medically necessary cosmetic dentistry are not eligible to be covered by HSA funds.
Advantages of HSAs for Dental Payments
HSAs work as tax-exempt accounts, meaning that your contributions are tax-free. This money can be used to pay for your dental procedures, and while paying for these procedures out of pocket may have consisted of after-tax dollars, they are now tax-free using a HSA because of their exemption status. Also, dental procedures can be expensive, and having an HSA can help you save money on your out-of-pocket expenses.
Understanding HSA Contribution Limits
While using a HSA to pay for your dental expenses is an excellent way to save money, it's important to keep in mind the contribution limits. In 2021, individuals can contribute at most $3,600 annually, while families can contribute a total of $7,200 annually. As a side note, people aged above 55 can contribute an additional $1,000 annually.
How to Get Started with a HSA
With healthcare costs rising every year, it's no surprise that more and more people are turning to HSAs for their medical needs. If you're interested in getting started with a HSA to cover your next dental visit, all you need to do is open an account and start contributing.
To make the most of your HSA, it's important to track your dental expenses and use your HSA funds to pay for qualified expenses. You can also invest the money in your HSA account to help it grow over time. Additionally, it's a good idea to make sure you understand the rules around HSAs, such as the contribution limits and eligible expenses, so you don't accidentally incur an IRS penalty.
While HSAs can be a great way to save money on healthcare expenses, navigating the rules and regulations can be tricky. Understanding the basics of what an HSA is and how it works can make the most of this powerful healthcare savings tool. At Signature Smiles Dentistry in Parker, CO, our team is available to answer any questions you may have about using your HSA for your dental needs.
Dental Discount Plan in Parker, CO
At Signature Smiles Dentistry, we prioritize oral health, ensuring that everyone gets the dental care they need. With our Signature Smiles Dental Discount Plan, even those without insurance can receive affordable treatment.
Our dental discount plan, offered by Dr. Gunning, includes comprehensive exams, periodic exams, radiographs, adult and child cleanings, and fluoride treatments. As a member, you will save 15% on all other dental procedures within our office.
For an annual fee, the first member pays $299, with each additional member paying $199. Furthermore, there are no deductibles or involvement from insurance companies. You can cancel the plan at any time with a written request.
Our Signature Smiles discount plan offers immediate eligibility and benefits, with no waiting periods. It is a convenient and affordable solution for your oral care needs.
Why Choose Signature Smiles Dentistry for Your Dental Health?
Signature Smiles Dentistry in Parker, CO, is a great choice for your dental health needs. From general cleaning and check-ups to orthodontics and restorative procedures, our team of experienced dental professionals provides exceptional dental care. Our office accepts HSA payments, allowing you to make the most out of your plan while receiving top-notch dental care, all under one roof.
If you have an HSA account and are looking to use it to pay for dental expenses, Signature Smiles Dentistry in Parker, CO, is here to help. We understand the confusion surrounding HSA accounts and dental care, and we will work with you to maximize your benefits. Our knowledgeable team can discuss your HSA eligibility and help you make informed decisions when it comes to your dental health. Contact us today  to schedule an appointment and make the most of your HSA benefits.