Skip to Content
How to Reverse Receding Gums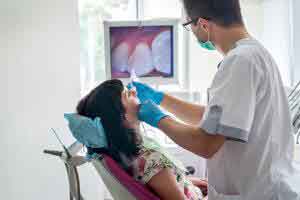 Many adults notice slight changes in their gums over time, with teeth appearing longer and feeling more sensitive. This usually means your gums are receding. Gum disease is the biggest culprit in this problem. So your answers in how to reverse receding gums often come down to treating gum disease.
Gum Disease and Other Causes for Receding Gums
In helping you know how to reverse receding gums, your dentist first identifies the cause of your recession. When it is gum disease, you gain important treatment and support to help you improve your gum health.
Gum disease involves inflamed gums where they meet your teeth at the gum line. Over time, this inflammation progresses to cause bone problems, affecting how your bones support your teeth. This disease starts with gingivitis, progresses to periodontitis and left without the receding gum treatment Aurora CO offers, continues to advanced periodontitis.
Signs and symptoms of gum disease include:
Red, tender, and swollen or bleeding gums
Receding gums moving away from your tooth
Ongoing bad taste in your mouth
Bad breath
Loose teeth
Pus forming around your teeth and gums
When your teeth look more prolonged than in the past, this also signals possible gum disease with receding gums. But it could be a sign of other causes of other oral health problems. Examples include brushing your teeth too aggressively, grinding your teeth, genetic issues, or poorly aligned teeth. Whatever the reason, your dentist provides the receding gum treatment Aurora CO needs.
How to Reverse Receding Gums
Your gums will not regrow. But you can treat them in an effort for better gum health. If you have lost a significant amount of gum tissue, you may be a good candidate for a gum graft. This replaces lost tissue through surgical transplantation of tissue from another area of your mouth to your gums.
For how to reverse receding gums, your dentist first considers whether you need receding gum treatment Aurora CO for gum disease. If you do, the dentist performs a deep cleaning of your teeth to remove debris and bacteria. Sometimes gum grafting follows this treatment.
Preventing further recession becomes your focus for the future, instead of how to reverse receding gums. In this sense, you reverse the receding process but do not regrow lost tissue.
Some of the best approaches include using a soft-bristled toothbrush less vigorously. You also need to maintain good daily oral hygiene by brushing twice daily, flossing each day, and avoiding tobacco use. Straightening your teeth also helps stop receding gums, when crooked teeth cause these problems.
Visit Your Dentist Regularly
Regardless of why you think your gums recede, you need to see your dentist regularly. Your dentist provides receding gum treatment in Aurora CO at Signature Smiles Dentistry. Other dental services in Parker CO include:
Oral surgery
Crowns
Implants
Fillings
Learn more about how to reverse receding gums by scheduling your visit with Signature Smiles Dentistry in Parker, CO. Contact Signature Smiles Dentistry today at 720-513-8405.