Skip to Content
What is Sedation Dentistry?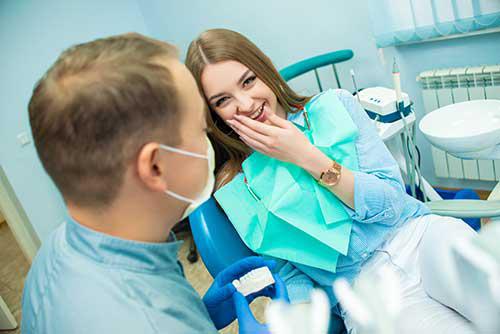 If you experience fear of some dental procedures or oral surgery, you have options today for making your treatments easier. These include anesthesia that numbs pain and sedation dentistry used to relax you and relieve your anxiety. However, you may find yourself wondering, "What is sedation dentistry?" We can help.
What is Sedation Dentistry?
Whether you feel nervous about general dentistry procedures or oral surgery in Parker, CO, sedation dentistry may be able to help. But, what is sedation dentistry? The answer is simple. Sedation dentistry is an option for dental patients, using elements like nitrous oxide, also called laughing gas. It also includes general anesthesia for oral surgery. Your highly-trained dentist who provides sedation dentistry does so using the highest standards of care and patient safety, so you can feel confident in these services.
Many people fear going to the dentist. This is a widely accepted phobia, usually one borne out of a negative experience. When you seek dental services in Parker, CO, you can take advantage of sedation options to make treatment safer and more relaxing.
Through sedation dentistry in Parker, CO, you can manage your phobias, anxieties, and fears to receive the treatments you need. In fact, sedation is available for many services and not just surgeries.
Will Sedation Dentistry Work for Me?
Your dentist considers many factors to determine whether you make a good candidate for sedation during dental treatment. These factors include your mental health conditions, physical health, and the medications you take. Other factors are cardiac health, high blood pressure, diabetes, and respiratory conditions. To ensure your safety, you possibly need to see your doctor for clearance to receive sedation in the dentist's office.
To determine if you make a good candidate for sedation, your dentist takes down your medical history and assesses your physical health. He or she advises whether you need to visit your doctor before proceeding to the dental office.
Methods of Dental Sedation
Methods of dental sedation include laughing gas, enteral sedation, IV sedation, and general anesthesia. Laughing gas is most common, also being called a nitrous oxide and inhalation analgesia. You do not go to sleep on nitrous oxide, instead of experiencing a relaxed state of awareness while receiving your treatment.
You receive enteral sedation by pill or oral liquid. Also, you possibly receive this type of sedation along with laughing gas. This sedative relieves your anxiety during treatment and possibly enables you to lightly sleep.
Your dentist's office injects anti-anxiety medication directly into your vein as part of intravenous sedation. This IV sedation is deeper than laughing gas or enteral methods, but you remain awake. You feel less aware of your treatment and experience some recovery time afterward.
When you need to fully sleep during your procedure, such as oral surgery, general anesthesia deeply sedates you. Your dentist's office uses medications injected directly into your vein, sometimes accompanied by gas-based anesthesia. After general anesthesia, you need extra time for recovery before leaving the dentist's office.
Sedation Dentistry and Other Important Dental Services in Parker, CO
Many people feel anxious about visiting the dentist, so you are not alone in your fears or nervousness. But today you have excellent options for safe sedation dentistry in Parker, CO.
Besides sedation, you also need a dental provider offering a wide range of key services. These include:
Signature Smiles Dentistry in Parker, Colorado provides all of these services and sedation dentistry. You can trust the caring professionals of Signature Smiles Dentistry for your best oral health and an attractive smile. Schedule your first visit today by calling 720.513.8405 and find out how your dental visits can feel less stressful through helpful sedation.