Skip to Content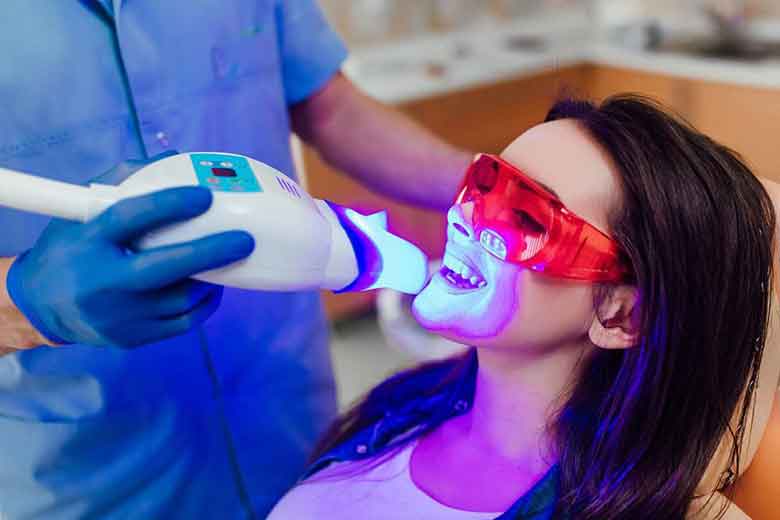 Your smile is one of the first things that people notice about you. However, if your teeth aren't as bright and clean as you'd prefer, you may be somewhat self-conscious, leaving you searching for teeth whitening options. Our cosmetic dentistry services are available for your benefit if this describes your situation. Contact Signature Smiles today by calling 720.513.8405 for more information.
How Does Teeth Whitening Work?
One of the primary ingredients that make your teeth whiter is peroxide. This substance bleaches your enamel, providing a bright, sparkly appearance. As a result, the amount of peroxide in the treatment determines how strong it will be. Most teeth whitening products include peroxide percentages of 10, 16, or 22%.
When you decide you want teeth whitening services, talk to your Parker, CO dentist. They can determine if your gums and teeth are healthy and whether you are a good candidate for teeth whitening. If they decide that you are, they can give you teeth whitening options.
Professional In-Office Teeth Whitening
Professional teeth whitening services provide exceptional results. Your dentist will perform the procedure in their office. This process is usually quick and can be done in just over an hour, giving you almost immediate results. In-office teeth whitening also lessens the discomfort and sensitivity you'll experience, making this treatment option attractive to many of our patients.
Teeth Whitening Trays
This teeth whitening option is effective. However, the process takes longer, and you will not see results immediately. Depending on how strong the gel's peroxide is, the patient will wear the teeth whitening tray a few hours each day, or even overnight. It may take 3-14 days for you to see results.
Teeth whitening trays fall into two categories: trays you purchase from your dentist and those you buy over the counter at the drug store. Both methods will whiten your teeth, but the trays you buy from your dentist produce results faster and more effectively, due to the fact that they have a higher percentage of peroxide. Furthermore, the trays you get from your dentist exactly fit your teeth, unlike those you buy at the drug store. These could allow the peroxide to seep into your gums, causing soreness and irritation.
Teeth Whitening Strips
We've all seen commercials for quick and easy teeth whitening strips. This over-the-counter method is cheap and easy to use. In addition, most of these methods work, but it may take time for you to see results, depending on how much peroxide the strips contain.
Teeth Whitening Products
Teeth whitening toothpaste does not actually bleach your teeth. Instead, they offer mild abrasives that can remove some surface stains. Some options may have polishing agents or other special chemicals to remove more stains than your garden variety toothpaste. However, this option will not produce the same effects as other teeth whitening options.
Similarly, teeth whitening gum, mouthwash, and dental floss may or may not be effective methods of polishing your teeth. However, they may be useful in making sure that your teeth stay healthy. Look for the seal of acceptance from the American Dental Association (ADA) for effective methods of maintaining your oral health.
Contact Signature Smiles
At Signature Smiles, we're proud to provide teeth whitening options for our patients. We also offer a range of cosmetic, restorative, and general dentistry services to our patients to help them keep the smile that they love. Our dental services include:
You don't have to live with a dull, uninspiring smile any longer. Contact Signature Smiles today by calling 720.513.8405 to learn about our excellent teeth whitening options.