Skip to Content
How Long Do Dental Implants Last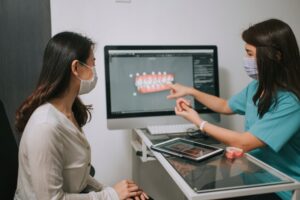 Missing, decaying or damaged teeth have a significant impact on your health as well as your smile. They can also bring challenges related to eating, speaking, and smiling. If you are missing one or more teeth, you are not alone. There are about 120 million people in the United States missing at least one natural tooth. While the number of people missing at least one tooth may be alarming, there is a common question among these individuals: How long do dental implants last?
The general answer here is 25 years. In this blog, we will investigate a variety of factors that play key roles in the longevity of dental implants.
Dental Implants Explained
If you are missing one or more teeth, dental implants can provide a solution by providing a tooth replacement. In the case of a missing tooth, a dental implant fits over a crown when missing one tooth or can even be a solution to missing all teeth or to support dentures.
Implants have three primary components:
Implant: The implant is a titanium post which is surgically implanted into the jaw and functions similarly to the root of the tooth.
Abutment: Screws into the jawbone and stays above the jawbone. The abutment is used to hold the prosthetic tooth in place.
Crown: The part that is seen and looks most like a tooth is called a crown. These can be made of ceramic or other, cheaper, materials. The crown is fixed to the abutment.
Why Implants?
There are a variety of reasons to choose an implant procedure. A few ways that choosing to have a dental implant procedure. Of course, this list may not include some personal benefits that are unique to you as an individually, but some common benefits include:
Prevention of jawbone density loss as a result of missing teeth
Permanent fittings, unlike removable dentures
Ease and more efficient eating as compared to missing teeth or lose fitting dentures
increase in self-confidence and smiling
more understandable speech
prevents facial drooping and maintains a younger appearance
What Contributes to the Longevity of Dental Implants?
As with most things, proper care and maintenance extends the life and functionality of it. While dental implants last an average of 25 years, there are several factors involved. Here are ways you can increase the lifespan of a dental implant:
What you eat: Hard, sugary, and starchy foods can decrease the lifespan of your dental implant. Your dentist will advise you to avoid these as your mouth is healing from the procedure, if not longer. Additionally, biting down with too much force can decrease the implant's lifespan.
Dental Hygiene: Taking care of your implants will prolong the life of them. Just like with your natural teeth, brushing and flossing twice a daily prolongs the life. Visiting the dentist for a cleaning and check-up twice every year.
Position of implant: The placement of the implant can be towards the front or the back of your bite. The same amount of force is not used around your entire mouth. Back teeth use more pressure than front teeth, meaning that teeth towards the front will typically last for longer.
Bone density: Your jawbone requires a certain level of density to be able to successfully complete an implant procedure. Bone density, in general, decreases with age. Tooth loss can perpetuate a decreasing density. If your bone density is not sufficient, a mini implant may be a possible option.
Smoking and drinking in excess increase the risk of a failed dental implant. They also increase the risk of other health complications. If you want to do something to increase your chance of dental implant success and you are a smoker or drinker, change your habits!
General medical condition: Your general health is another key factor in the longevity of your dental implant(s). If you have a healthy dental and general medical history, then you are at an advantage of a long-lasting implant.
Dentist ability: Researching to ensure that the dentist you choose will be a major priority. A well-fitted and positioned implant will have the best chances of healing well and lasting for years to come.
Why Do Dental Implants Fail?
Typically, a dental implant is successful and lasts for the expected lifespan. However, there are occasions when a dental implant may fail. Some of those reasons include:
Unrelated medical complications, such as cancer. In fact, many dentists will delay or refuse dental implant procedure when a patient has cancer due to a higher risk of failure.
Poor oral hygiene is another reason that dental implants may fail. The risks of gum disease increase when proper oral care is not followed. If you have gum disease, then your gums will begin to recede, and the dental implant will become exposed. Once it is exposed then the implant can weaken and fail.
Caring and Preparing For Your Dental Implants
Many dentists will require you to have healthy gums, enough jaw bone to support the implant, and commitment to keeping your teeth, gums, and implants heathy by following a daily oral hygiene routine.
Dental implants are an excellent, convenient lifetime investment. If you have lifestyle concerns for having a successful dental implant, seek help in making an improvement plan, such as quitting smoking or improving your oral hygiene and seeing a dentist for a cleaning and an exam twice yearly. Your teeth are so important to your overall health and confidence, so make the effort to pursue a healthier you.
Signature Smiles Dentistry
At Signature Smiles Dentistry, we treat everyone like family. Our friendly staff create a joyful atmosphere with our patients' health, understanding, peace, and comfort in mind. If you are pursuing dental implants, Signature Smiles Dentistry is the name you can trust! We have been trusted by the community of Parker, Colorado for more than 35 years. If you have questions, contact our professionals with any questions related to your overall dental health or, specifically, about dental implant options at (720) 722-3792.