Skip to Content
Do I Need a Dental X-Ray?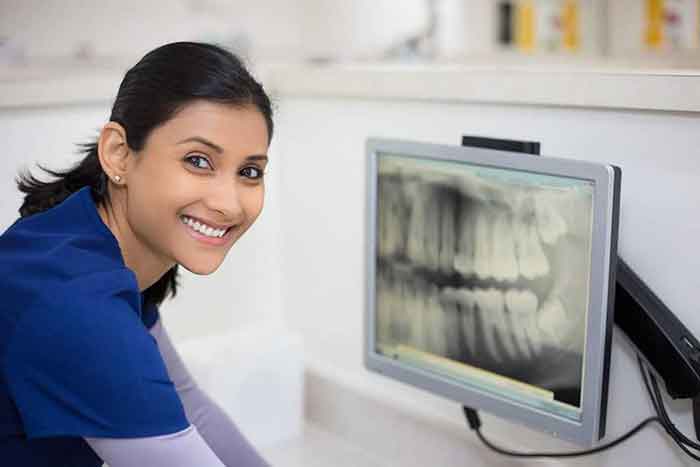 In the past, people worried about getting a dental X-ray. Each exposure to these technologies increases the risk for cancers and other conditions. But today's dental offices offer safe dental radiographs and even digital X-rays. So knowing what is happening to your teeth beneath your surface no longer involves the high risks of the past.
Everyone needs dental X-rays Parker Colorado offers. Your dentist uses these images to diagnose your oral health problems and for routine treatment planning. So what types of X-rays exist for general dentistry and do they expose you to harm? What other dental services in Parker CO play a significant role in your dental wellness?
Types of Dental X-Ray Images
Each type of dental X-ray imaging study serves different purposes. Below are the most common types and their uses in the dentist's office:
Bitewing X rays
Periapical X rays
Occlusal X rays
Panoramic X rays
Digital or plain film X rays
Bitewing X-rays, often simply called bitewings, help your dentist review your oral health each year. Your treatment provider uses these images to find dental problems like decay between your teeth. He also checks the bone level around your teeth and supporting them.
Periapical X rays, or PAs, capture full tooth images from the top to the tip of each root. These images help your dentist find problems when you suffer symptoms in individual teeth. He also uses them for follow-up care after dental procedures, such as a root canal. In these images, your dentist can find abscesses, abnormal growths, or deep decay.
Occlusal X-rays provide images of the roof or floor of your mouth. In these, your dentist also sees extra teeth, impacted teeth, jaw problems, tumors, or other abnormalities.
Panoramic X-rays often called Ranorex, help your orthodontist or oral surgeon prepare for treatments or surgery. Before you undergo wisdom teeth removal, you need panoramic X-rays.
Do I Need Dental X-Ray Imaging?
Digital X-rays serve many purposes today, where only film X-rays existed in the past. These expose you to a greatly reduced amount of radiation and use a computer-generated image for immediate viewing. These images give the dentist great clarity and adjustable X-rays with fine detail, such as through zooming in on specific problem areas on your teeth or gums.
Dental offices in Parker, CO use strict guidelines and regulations when capturing a dental X-ray. These rules keep your radiation exposure to a minimum. So today's X-rays provide greater benefit than risk. Still, you should avoid undergoing dental imaging studies while pregnant, unless absolutely necessary.
Other Important Parker, CO Dental Services
Other important dental services you need include:
For all of the above services, your dentist needs a dental X-ray. But these images cause you no harm and very minimal risk for radiation when completed by a quality dental office. For your dentistry needs and safe X-ray imaging, contact Signature Smiles Dentistry in Parker CO today at 720.513.8405. Through quality dental care and treatment from a dentist you trust, you need not worry about your dental health or safety any more. Call Signature Smiles Dentistry for your next visit.